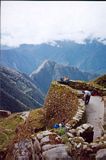 Peru, Inca Trail -
Along the entire trail there were ruins to look at. Nearest on the photo is a defense structure, and a happy guy from Chile.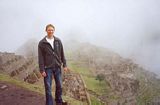 Peru, Machu Picchu -
Finally we arrived at the dreamlike Inca city Machu Picchu, which the Inca Trail leads up to. The morning we were there the entire area was sadly covered in a thick mist, but when the sun rose the mist disappeared and I got a pretty nice photo.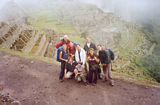 Peru, Machu Picchu -
Group photo with some of the people I walked the trail with, posing in front of the Inca city. Yet again, a nice group with mixed nationalities: a Dutch guy, two Germans, two girls from a with economic crisis struck Argentina, two British guys and two from Australia.