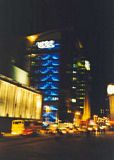 Glasgow -
In Glasgow we stumbled upon the worlds highest cinema, twelve stories high! The panorama view from the neon illuminated escalators were thrilling. Unfortunately the photo went blurred.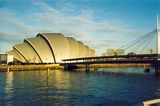 Glasgow -
An interesting building in the outskirts of Glasgow.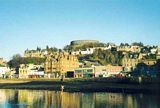 Oban -
From Glasgow we went on to the coastal city of Oban, where we stayed one night. It was nice to walk around the city, but I think it is more of a tourist magnet in the summer. I caught a bad cold standing outside for an hour in the cold cold weather one early morning waiting for a delayed bus to the Scottish highlands and Loch Ness.